5 minute tasks until the paint dries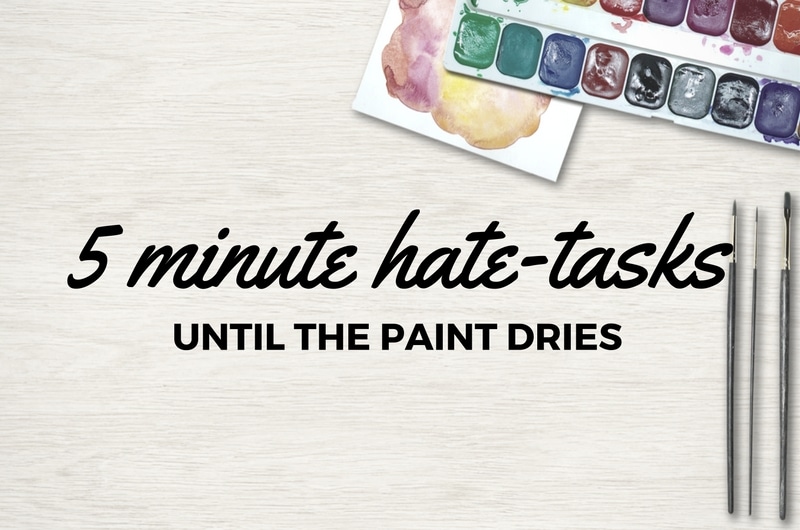 Here comes a little shorter and more passionate blog post than usual about how I feel when I stamp my finger in wet paint for the 5th time and mutter unprintable phrases about the nature of watercolours.
It happens (a.k.a. always) that you need several layers of paint to reach the desired effect. If you let the paint dry on the first layer before painting the second, the result looks as if different layers of veil shone through one another, so you can see the bottom layer as well as the top. A beautiful thing to do – unless you mess it up by putting a stubby finger in it to check whether the paint has dried yet.
After several years of painting with watercolours I sometimes find it hard to believe how long it takes for massive amount of water to dry on the paper. Sometimes I think it's good & ready, then apply the next layer and the whole thing blends together. Of course, the best trick is to place your palm on the seemingly dry surface and check the temperature: if it feels cold, then you've still got to wait.
But who the heck has got enough patience for this? Once you are into mixing colours and messing around waiting for the painting to dry just staring out of your head is the last thing you feel like doing.
However, after my latest blunder I have decided to list a few hate-tasks, which I usually procrastinate doing, but which can be completed perfectly within the 5-10 mins while the paint dries – and the reward is that you feel really productive.
10 hate-tasks you can complete in 5-10 minutes
do the washing up (hopefully you can do that in 5 mins)
pluck your eyebrows (if you do that at all…)
wash your hair
fill the washing machine/hang damp clothes
get the old muck out of your fridge (am I the only one who is susceptible to forgetting what's inside?)
change the bedsheets
clean the screen of your phone
wipe your glasses/sunglasses
tidy up your desk/kitchen/bathroom
Things you should never do
don't browse social media
avoid checking what games are installed on your computer/gadgets at all costs
don't check your emails
just get away from your computer, it is bad for inspiration
don't polish your nails – you will have to wait for that to dry then
Hopefully I won't be the only one to follow my own advice, but you also implement some of them – even if drying paint is not the reason for your having to wait. You can accomplish these 5-10 min tasks during any sort of unplanned break (as long as it happens at home), and by being productive you caress your self-esteem a little as well.
---