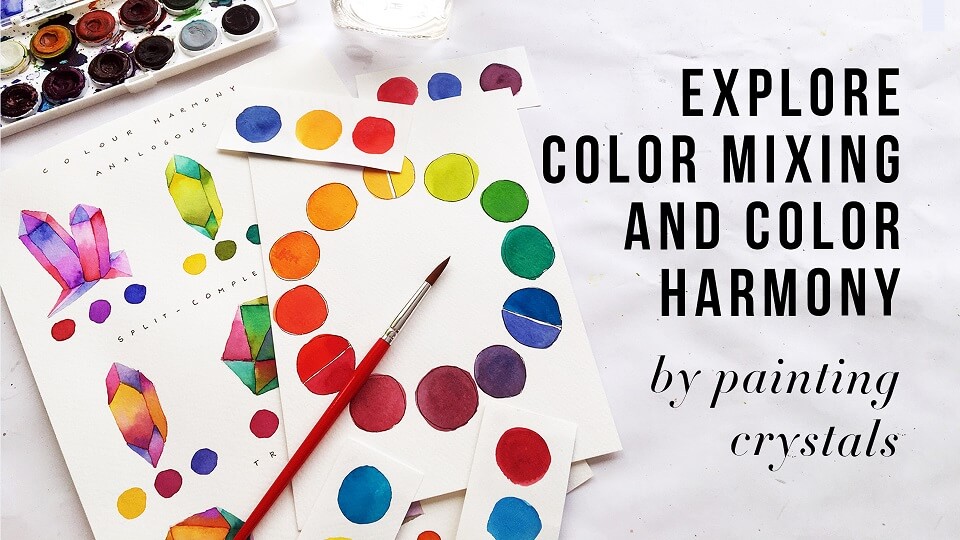 Colour mixing in watercolour like a pro!
Have you ever struggled with colour mixing in watercolour? Or have you worked hard on your watercolour painting only to realise that your colours look awful together on the final piece? Well, I am really happy to announce that I have created a conclusive video class on all that I know about colour.
Colour mixing is tricky, and it takes a lot of practice and experiments to get everything right. My class is here to give you a little bit of a shortcut.
We will start the class by learning about basic rules on colour theory and different colour models. Then we will learn about the 4 different properties of colour: hue, value, temperature and brightness.
In the last part of the class I'll tell you how you can pick colours for your paintings – both in theory and in practice.
You will learn all of this in a fun way, through painting 15 watercolour crystals in your very own colours.
This class is great for beginners as well as intermediate students of watercolour. No experience is required but being familiar with watercolours – particularly controlling water – will make the class easier to complete.
Watch the class trailer below. :)
How to apply and learn colour mixing?
Just like my previous class on negative painting, I created the course on Skillshare as a premium course.
If you don't know what Skillshare is, it is a subscription-based learning platform, where you can take as many classes you like as a premium member. This is the place where you can find my colour mixing course.
If you are not a member yet, you can get 2 weeks of free trial by clicking here, so you can watch my course for free.
I am so happy to be finally sharing my colour knowledge with you guys! I really hope to meet you on Skillshare!