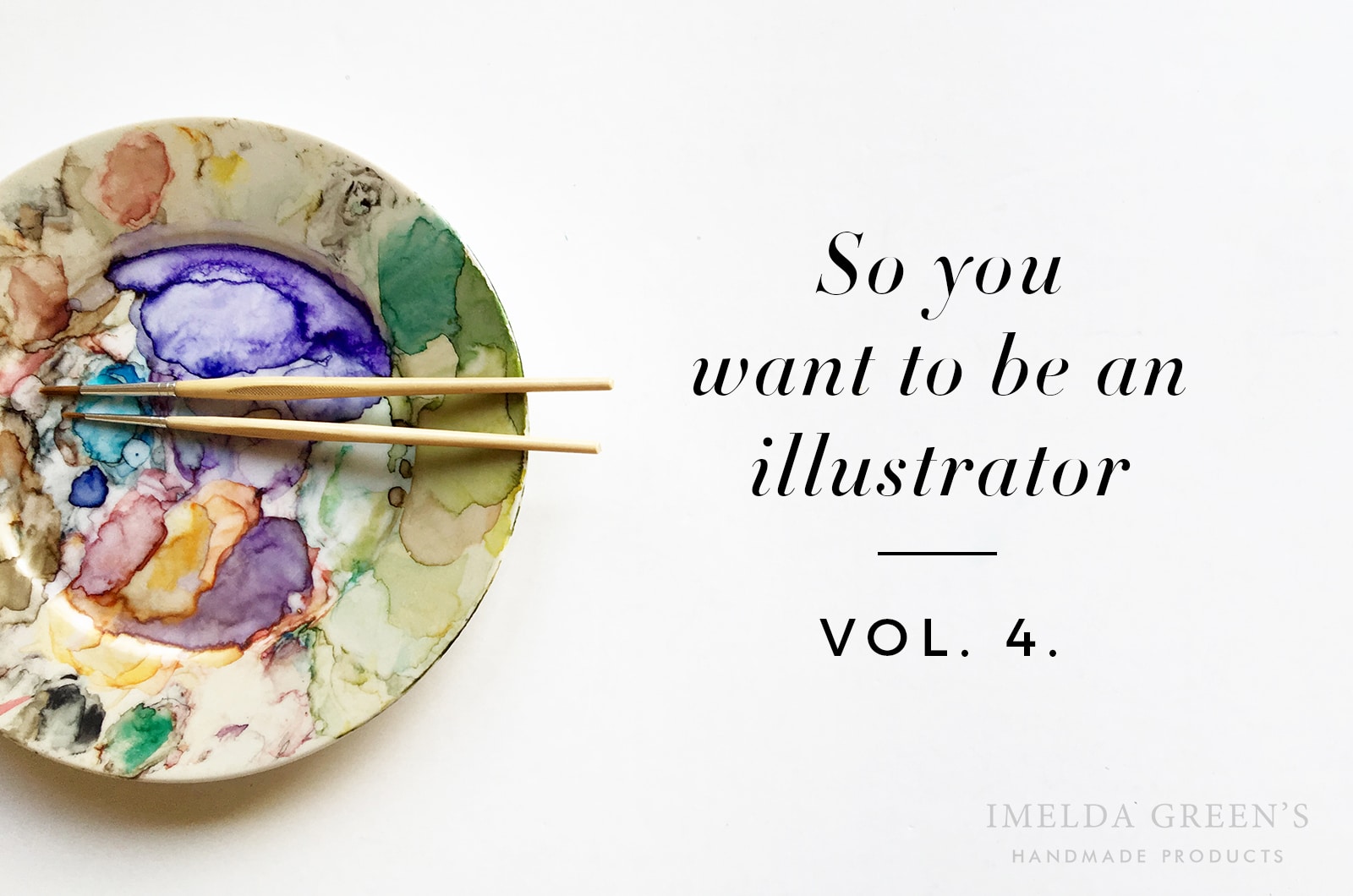 How to be an illustrator? – 5 best tips
The transformation from engineer to illustrator has cost me many years of work, which is not over to this day, even if I am already working in this profession. During this time, I have come across a lot of advice (both asked and unasked) that were completely useless. However, some have proved to be very important and still ring in my head, whenever I am unmotivated or don't know how to proceed. Today I have collected the most important ones for you.
1. "Do the work you want to be hired for!" (Holly Exley)
At the very start of your career, when you have no commissions, you will spend a lot of time creating the best possible portfolio. There are some who do free work, but you are much better off commisioning yourself – with something you would love to do. If, for example, your dream is to become a children's book illustrator, you can create pictures for your favorite stories! If you are planning to illustrate a cookbook, paint food! The formula is very simple: your prospective clients will find and commision you based on your portfolio, so if you are famous for making exquisite picturebook illustrations, you are likely to be found by book publishers, instead of people looking for wedding invitations. You have the right to build your own portfolio consciously, instead of meeting the expectations of all types of clients for free. Believe me, you will work with them enough in the future. Enjoy working on your dream commission as long as you can.
2. "Share it. Even if it's not good enough" (Kendyll Hillegas)
There are many who are waiting to be just a little better at illustration before sharing their work online. But the truth is, if you think that way, you will never be satisfied enough with your work to share it – which means just about professional suicide.
If you are a beginner illustrator and not yet famous, you have very little chance of showing your skills to the world without social media and the internet. It's okay if you are not satisfied with your work, as it will motivate you to grow – but it should not stop you from sharing it with others. Your level may be exactly what somebody is looking for, but you may also perceive the whole thing as a journey of development that you are showing to the world. And if you're still scared, browse a little on instagram: believe me, you'll find a less professional work than yours.
Don't wait for someone to tell you how to do it. Nobody's gonna help. No university or course. Nor the client. However, the internet is an inexhaustible source of knowledge, so it's up to you to make the most of it.
Work on personal projects! (see point 1) Find out how to build your portfolio! Learn all about social media marketing (yes, illustration is not just about painting pretty pictures!). Learn to speak the professional language! Make a to-do list of what you need to learn and do it!
It might seem overwhelming at first, but one of the beauties of online learning is that you can study at your own pace. Break each task into smaller steps and it will work. Remember, you don't have to work in this field full time to call yourself an illustrator. All you have to do is draw and work on it. But don't wait for someone to solve the big questions for you!
4. "Don't forget the golden triangle" (Proko)
Make exquisite work. Stick to your deadlines. Be nice. If you possess two of these three qualities, you have a chance on the market, but strive for all three. A common misconception is that if you are talented enough and your work is fantastic, you will be the winner. But illustration is an applied art where you have to work with clients who are also human, so being nice to others will actually matter a great deal. And being able to work for a deadline should not even be a question.
Keep in mind that talent is overrated, and it's not enough to keep you in the oversaturated market of illustration – even if it might have been once (which I doubt). You need to build a business, be trustworthy, and yes, make sure you that it's a pleasure to work with you.
5. Don't compete! Get inspired!
I actually made this one up and keep repeating it to myself all the time. In the world of social media, it is very easy to fall into the trap of comparing our successes to that of others'. But even if you are looking at illustration as a business, (which you should), you should look for inspiration rather than competition in the work of your colleagues. Build relationships and surround yourself with other inspiring illustrators! If you can't manage it in real life, online is fine, too. Being an illustrator, you rarely work as part of a team, so after a while it might feel lonely being lost in your own thoughts. If you have people to turn to in these moments – whether online or offline – it can be very helpful, both professionally and emotionally.
Which of the tips is most useful to you? Have you heard a tip that is not listed here but struck a chord with you? Share them in the comments below!