Behind the scenes #5 – The garden in focus this April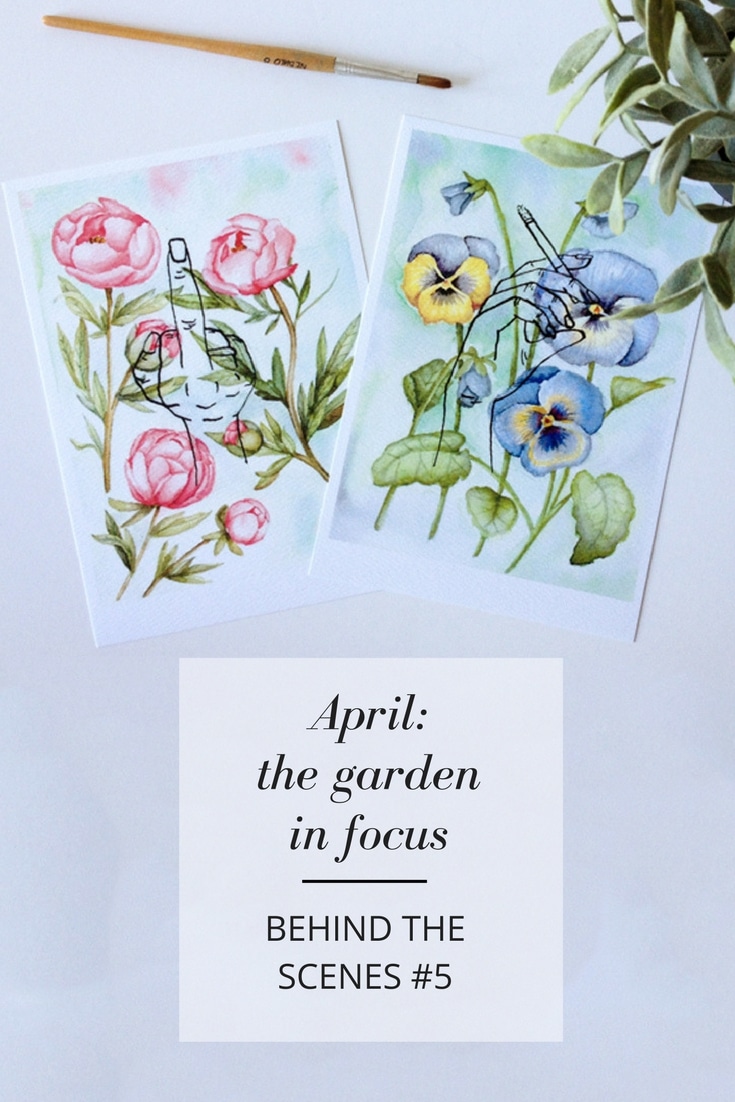 I must admit that April wasn't my best month this year. You might have noticed I wrote less blog posts and apart from some therapeutic painting my main source of peace came from gardening. I don't mean gardening literally of course: it would be fairly difficult in a tiny apartment in Budapest even if I had some talent with plants, but since I have none, it is absolutely out of the question. No, what I mean is some alternative gardening, and I'm just about to tell you how I did that.
Botanical Illustration vs Rebellion 2.0
There is almost nothing that calms me more than painting flowers and plants. It doesn't have to resemble the original, if it has 3 leaves instead of 2 it still looks pretty. Imagine painting a girl with 3 eyes instead of 2… Plants are a lot more flexible with my eccentricities. This month I was experimenting a lot with botanical illustration: the basil I painted for Mariann (of Bazsalikomos Kert) but the flowers above I created for my own amusement. You are welcome to get outraged over the details if you like, it seems I am going through my second teenage, which involves provoking conformism.
Books, books and some more books
When it comes to reading I planted gardening well into my library (haha..). I could show pictures of the various herbals I was looking through but I also read some more popular pieces with the same topic – which might be more enjoyable to the average garden enthusiast like me. Blackberry wine by Joanne Harris is a book I had read before, and strictly speaking, it's a novel, not a garden book. However, the love of plants and gardens is a very important part of the story line – and that is porbably the most attractive aspect of this great book. Down the garden path by Beverly Nichols is a book I had bought back in Heidelberg and it was no disappointment. It is the story of a garden in the making, from the stage of barren earth to a beautiful, blooming garden – all this set in the English countryside (where else?). Apart from the humour and self-irony of the anecdotes I definitely appreciate the tone, which enables 'outsiders' to understand gardening phrases as well. The book In and out of the garden by Sara Midda is less for book-worms, more for picture addicts, as it's a book of beautiful illustrations and hand-written text. I have had it for ages and I often take it off the shelves – if you want to look inside this beautiful book, look at this blog post.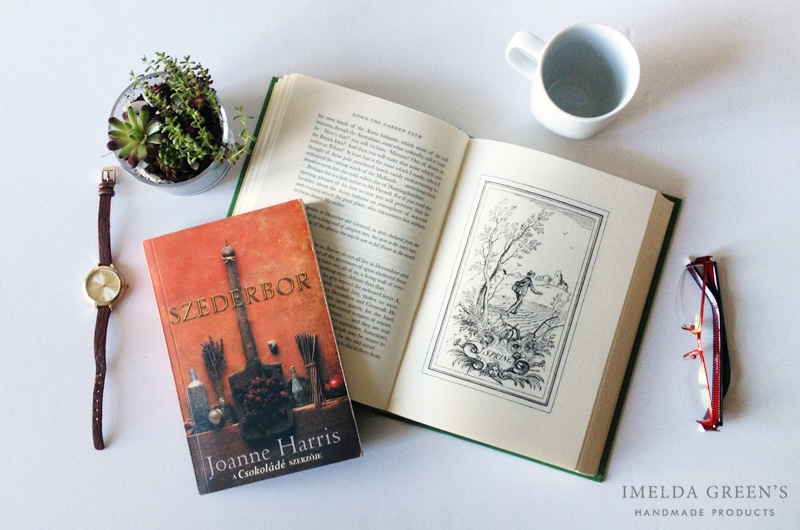 Staying active
Apart from all the creative work I squeezed in a bit of practical gardening as well. I took part in two workshops, during which I planted succulents and some herb seeds. I am glad to say the succulents are in bloom (my cat has not yet eaten them) but the herbs are not exactly enthusiastic. The cress was the only one that produced some sign of life, but the basil, the chive and the parsley have not yet decided if they want to honour me with their prescence.
Out of the garden
Apparently my pupils will soon turn into flower seeds (instead of dollar signs) but apart from gardening there were some other exciting things happening this month too. For example, you might remember my mentioning a Secret Project in my account of the previous month. Well, I am glad to be able to share at last that I was one of the designers creating the design box Goods from our garden! Among other works by great Hungarian designers, the box includes a print by me, on which you can find an illustrated recipe of my favourite breakfast – made with watercolours of course. If you are interested to order, please drop us a line here.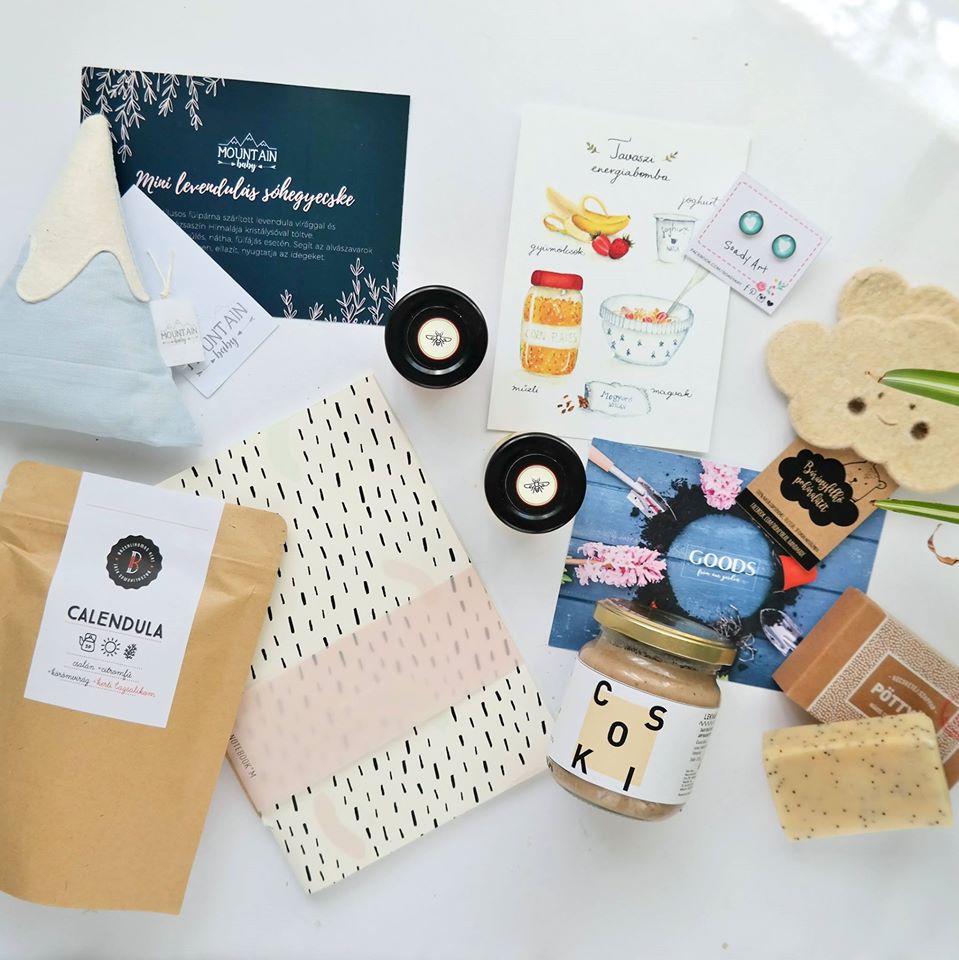 Photo: Soadyart
At the end of April, I visited an exciting exhibition as well, where I saw some absolutely amazing pieces by Hungarian illustrators. I realised we have so many talented illustrators in this country, so I will soon write a longer post on my favourites.
How was April for you? Share it in the comments below.
---