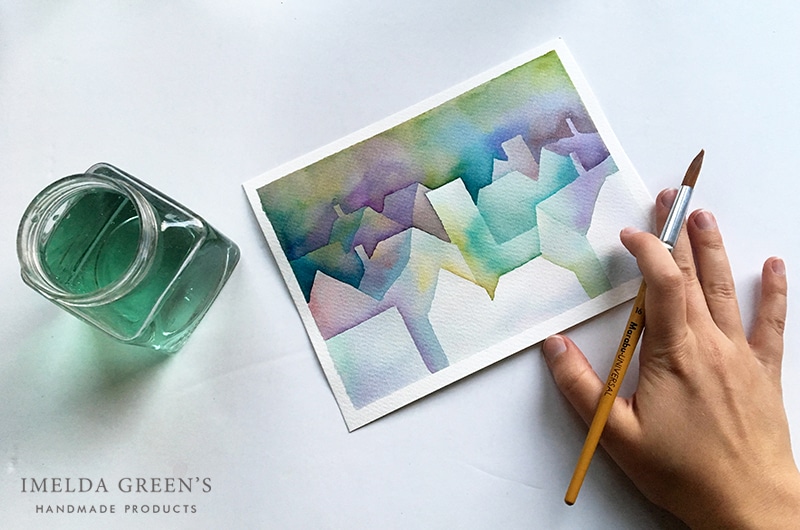 Watercolour painting class – negative painting
The beauty of watercolour mainly lies in the transparency of layers. But how do you actually reach this ethereal effect? I solved this question a couple of months ago when I met the negative painting technique on Hungarian designer, Hanga Katona's instagram.
This technique is based on one of the rules of watercolouring: painting from light to dark. You can learn the negative painting technique if you paint these houses with me. Come along! If you prefer to see the steps in video format, click below.
Supplies you need:
watercolour paper (in this case I use 300gsm A6 size paper)
watercolours or anilinie paint
a thick, round brush (size 10-16)
palette (you can use a plate from your kitchen, some old tile, or buy a palette in an art supply store
water
masking tape (I use the brand Thesa)
tissues
pencil and eraser
Step 0. – preparations
Draw a (very) light sketch of the houses, then use masking tape to stretch the paper. I have written a post about the right way to stretch watercolour paper here. Unless you use light weight paper, it is probably enough to use masking tape on the edges of the paper. This will (mostly) prevent the paper from buckling, as well as create a nice white frame around your painting.
Step 1. – the first layer of paint
When you are ready, wet your brush and apply a generous amount of water on the entire paper. Once it is thoroughly wet, pop some pigments into the wet surface and let them spread on the paper. If you are not satisfied, you can guide the pigments to move in the right direction with your brush. By the way, this is called a wet on wet technique.
You need to pay attention not to use dark colours first. If you use the paint very thickly already on the first layer, you will not be able to darken further layers. You can create lighter colours by adding more water to the same ammount of pigment.
Step 2. – the waiting game!
About the most difficult – and at the same time, most important – step in negative painting is to wait while one layer dries before applying the next. If you start painting the next layer before the first one is completely dry, you will lose your outlines.
Once the painting looks dry, it can still fool you. You should always place your palm on the seemingly dry paper and if it feels cold, then it's still not dry, so you should wait some more.
If you are impatient, you can always do something else while the paint dries, or you can use a hair dryer. In this case, you should blow air from at least 80-100 cm, so you don't blow away the pigments along with the water (which is not catastrophic in this case, but it's still good to know).
Step 3. – the second layer of paint
Once you are 100% sure that the first layer is dry, you can start painting the second. In this step, you basically do the same thing as in the previous one, with the difference that you do not apply water and paint on the entire painting, but follow the outlines of the first row of houses at the bottom of the painting.
You can use slightly darker colours on this layer, but it's still wise not to use pigments too heavily. As you build up the painting, the double-triple layers of paint will get darker even if your brush is not particularly full of pigments.
The advantage of round, pointed brushes is that they can hold a fair amount of water (and paint) but you can paint small details with the tip – like the outline of the houses.
Step 4. – repeat
By now you understand the point of negative painting, so all you need to do is repeat the steps above.
It's wise to always use mixed colours, otherwise the results can get somewhat garish. You can paint in monocrome (only using blue-s, for instance), but you don't have to be afraid of blending different colours. In my case, yellows, purples and turqoise are the main colours.
The last step is to gently remove the masking tape.
If you are looking for a misty, wintery atmosphere, you can reverse the order: start painting with the back row of houses, and gradually come to the front, using darker tones. You can create a misty forest or mountains as well, using negative painting.
If you do this tutorial, please share it on instagram and tag me @imeldagreens.
I have also created a 30 minute long video course on negative painting on Skillshare. You can learn all about it here.